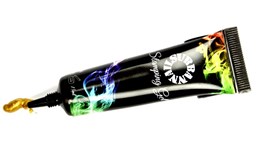 Stamping Gel 001 Gold
Product is niet op voorraad
€
13
,
95
Deze stempel gel is erg veelzijdig, na het aanbrengen van de stempel gel, hard je deze uit in de lamp.
De stempel gel komt uit de lamp met een plaklaag, in deze plaklaag kan je pigmenten, fijne glitter of folie aanbrengen.

Gebruik van de stempel gel:

*Lak de nagels in de gewenste kleur
*Lak de nagels af met een matte topgel of base & Top en zorg dat deze plak vrij is.
*Breng nu een heel klein beetje stempel gel aan op de stempel plaat naar keuze.
*Met de schraper verdeel je de gel over de gewenste stempel afbeelding.
*Neem nu met de stempel de Lak op van de plaat.
*Plaats deze op de nagels.
*Hard de stempel nu uit in de lamp.
*Poets als gewenst pigmenten of fijne glitters in de plaklaag van de stempel gel en fixeer in de lamp.
*Lak de nagels nu af met topcoat.
De gel moet 2 min in een UV-lamp of 1 minuut in een LED-lamp